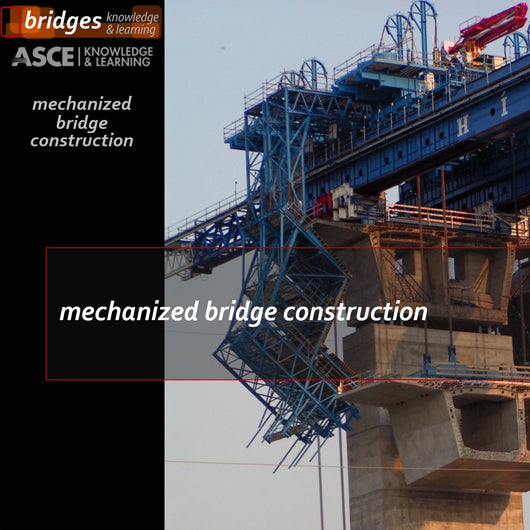 Mechanized Bridge Construction
2-day course, on-demand
Beam launchers and shifters are used in many countries for construction of precast beam bridges. Self-launching gantries and lifting frames are used for span-by-span and balanced cantilever construction of precast segmental bridges. Movable Scaffolding Systems (MSS) are used for span-by-span and balanced cantilever in-place casting, and forming carriages are used for segmental casting of the concrete slab of steel bridges. Form travelers are used for cantilever casting of post-tensioned and cable-stayed decks and arches. Portal carriers with underbridge and span launchers fed by tire trolleys are used for full-span precasting, and special equipment is used for the incremental launching method as well.
When properly conceived and executed, mechanized bridge construction saves time and costs, reduces risk, and improves safety and quality of bridge projects. These are the reasons for the bridge industry to move toward mechanized construction and for bridge owners, designers and constructors to foster innovation and training of management and staff in the business-driving arena of the industry.
Mechanized bridge construction is based on the use of special equipment. With extensive illustrations and case studies, this 16-hour course explores configurations, operations, loads, kinematics, performance, productivity, structure-equipment interactions and industry trends for every family of special equipment. The course also explores the design of piers, abutments and superstructures for safe and efficient use of special equipment, and delivers a unique wealth of knowledge, learning and insights extracted from three decades of design, design review, construction and forensic engineering of bridges, bridge construction machines, and their interactions.
Excellent coverage of large field of unfamiliar work/knowledge - Doug Dixon, PEng, Senior Bridge Engineer, MMM Group Ltd. (Canada)
Excellent seminar, Marco is an expert on the subject - Brian Hamill, PE, Chief Engineer, Hardesty & Hanover (USA)
Marco is very knowledgeable and dedicated. This seminar is equivalent to reading two good books on bridge construction - Khaldoun Mhaimeed, PhD, PE, General Manager, AMAMAH Space Structures (Saudi Arabia)
Very interesting topic and a great way to earn some needed clues - Scott Smith, CEO, Miller Formless Co. (USA)
Addressing the needs of bridge owners, designers and constructors, the course provides an exciting occasion for face-to-face interaction and participating in a true learning experience while earning continuing education credits.
Day One:
Welcome

Introduction to mechanized bridge construction

Precast beam bridges

Technology of segmental precasting

Span-by-span construction of precast segmental bridges

Balanced cantilever construction of precast segmental bridges

In-place casting of balanced cantilever bridges
Day Two:
Technology of span-by-span casting

Span-by-span casting with overhead MSS

Span-by-span casting with underslung MSS

Incremental launching

Full-span precasting
The course is constantly top-rated for material and presentation. For reservation and pricing, do not hesitate to contact us.